Channel 5 - Friday
After almost 36 years on our screens, beloved Aussie soap Neighbours ends on Friday, with a special prime-time finale, where Ramsay Street residents past and present gather for the wedding of Jarrod 'Toadfish' Rebecchi and Melanie Pearson.
'There's definitely the vibe of, "Come on, let's finish it really well,"' says Ryan Moloney, 42, who's played Toadie since 1995. 'People have grown up with it just being part of their lives, so we've been very blessed to still be going for this amount of time.'
'All there was originally was the laugh,' recalls Lucinda Cowden, 57, who first played scatty Melanie in 1987, and returned last year. 'The remit was, "She sounds like a cross between a seal honking and a donkey braying." So, I came up with this crazy laugh – I was appropriately horrifying!'
Annie Jones – aka 'Plain' Jane Harris – also came back, in 2018, and her character has recently been dating another returnee, Dr Clive Gibbons (Geoff Paine).
'I am super-honoured to be part of the show, kind of top-and-tailing it, and to be with Lucinda and Geoff and Stefan [Dennis, who plays villainous Paul Robinson],' says Annie, 55. 'It's been wonderful to come back 30 years later, and to
play the same character.'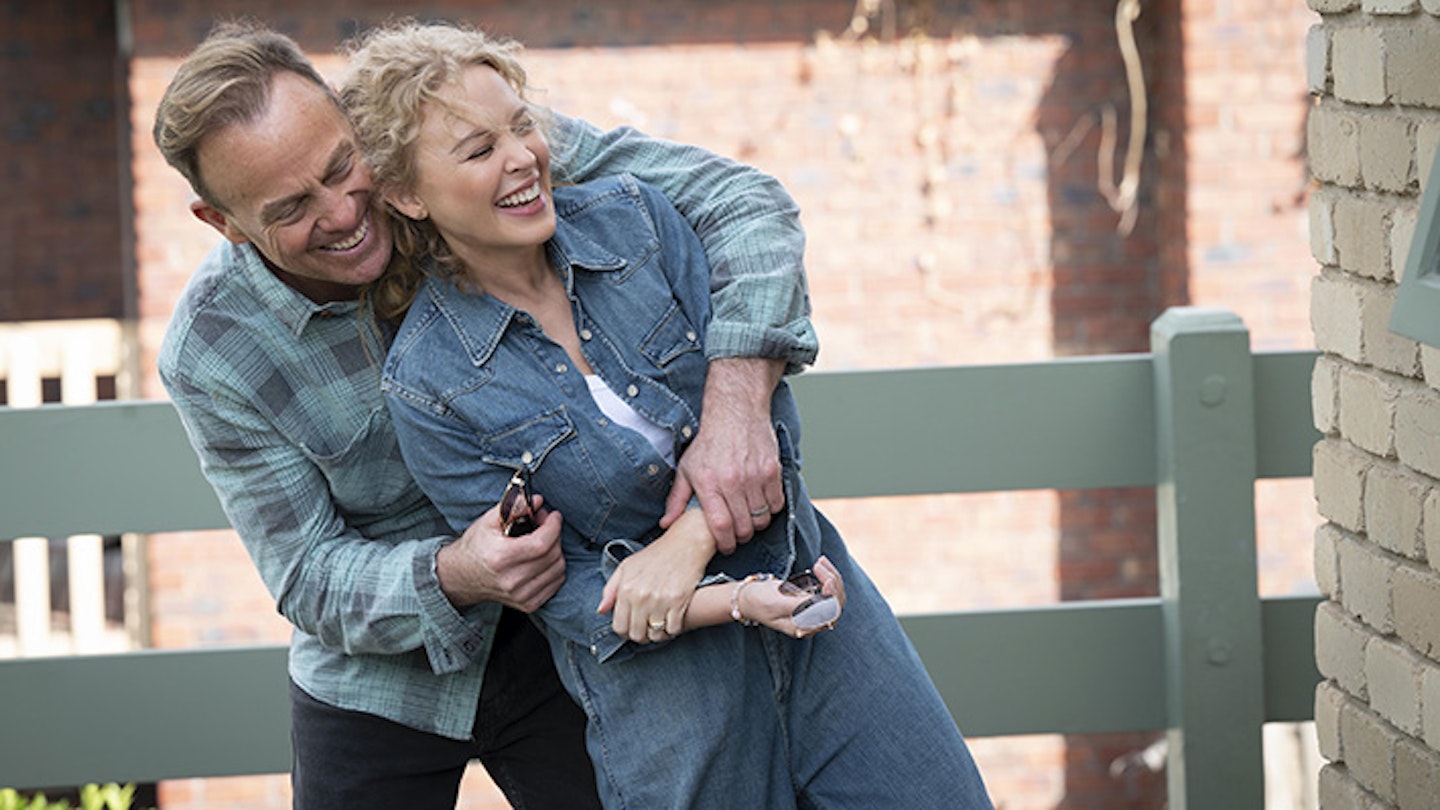 Whether Clive and Jane will get their happy ending remains to be seen, however, thanks to the shock reappearance
of her old flame, bad boy Mike Young (Guy Pearce).
'I've always wanted to step back onto the show at some stage, and with the sad news that it's ending, it seemed appropriate,' says 54-year-old Guy, who went on to achieve Hollywood success after his stint on the soap, from 1986 to 1989. 'It's all flooding back, but I did think, "How do I play this guy?" The producers still had Mike's old motorcycle gloves, so that helped!'
There are plenty more joyful reunions in store, not least Scott and Charlene Robinson, played – of course – by Jason Donovan and Kylie Minogue, who filmed their scenes in secrecy. The couple haven't been on screen together for more than 30 years, but their wedding episode, screened in the UK in 1988, made the show a mega hit,
attracting 19.6 million viewers.
'How phenomenal is it that those two characters remain the most identifiable faces of the show?' says 66-year-old Jackie Woodburne, who plays Susan Kennedy, and has appeared in over 3500 episodes – more than any other cast member.
'That's the kind of legacy Neighbours leaves. Look at all the young stars who join the cast, stay for a few years, and then go out and conquer the world. It will be a huge loss.'
Tom Spilsbury
Episodes will also air at the usual time Monday-Friday in the run-up to the prime-time finale. Also, Neighbours Made Me A Star: From Ramsay St To Hollywood and Neighbours: All The Pop Hits & More, Especially For You (Channel 5 Friday)